FAST FACTS:
*1-2 Years Old - 47 Pounds
*Medium Energy: Playful and Cuddly
*Kid Friendly
*Dogs - Good With Active Dogs After Slow Introduction
*No Cats
*Potty & Crate Trained
*Fenced Yard Required
*Quiet, Suburban Neighborhood Preferred
*Training Required - Eager to Learn!

BIO:
Bon Jour! My name is Gadot, and if you bring the toys and snuggles, I will bring the smiles and love! I'm a silly and sweet lady with a medium energy level: I enjoy playing with toys but will calm down quickly when I can get a cuddle session in - nothing makes me happier than curling up in your lap for some quality snuggles! Since I love attention from my people the most, I would be very happy as your one-and-only furry friend but I am also good with active, playful dogs once we have time to get to know each other; I should have a home with no kitties, however. I have been a gentle, well-mannered lady when meeting young children so I would do fine in a home with kiddos. I have lovely manners, as well: I am potty and crate trained; I will be your shadow when you are home, but I am fine relaxing during the day with my favorite antler or kong to keep myself entertained. I also adore blankets and will tuck myself in for a nap. My ideal forever home will be in a quiet, suburban neighborhood and have a fenced yard that I can enjoy because my leash manners are a work in progress and I can be reactive when I see other dogs on walks. I am eager to learn and would thrive with a family that will take me to training classes - I think it will be a lot of fun for both of us, and I am all about fun with my fam! Fill out that adoption application soon, OK? We have a lot of snuggling to do and I can't wait to get started!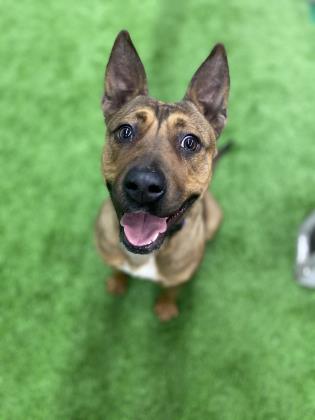 When you adopt a dog, you're not buying a pet. Your donation isn't a fee for your adoptee - it's a gift that helps us pursue our mission, save lives, and ensure we can provide care to all the dogs in our program.
Senior dog. 8 years and up / $125

Adult or Young Dog. 6 months to 7 years / $300

Puppies. Under 6 months / $375
Lives in 50 mile radius of Itasca within the Illinois border

Be at least 21 years of age

Have the knowledge and agreement of all adults living in the household

Have approval from owner of the residence (written in lease)

Have a valid ID with current address

Be approved as a suitable adoptive home by Fetching Tails Foundation

Be prepared to make a lifetime commitment