FAST FACTS:
*Black Labrador Mix - 7 Years Old - 80 Pounds
*Cuddly and Active/Playful Personality
*Large-Dog Friendly
*Older children (10+ years)
*No Cats or Small Dogs
*6-Foot Privacy Fence Required
*Potty and Crate Trained

BIO:
Greetings from your friend Jack Dawson! My happy, handsome Lab face may look familiar to you, as I've been on Fetching Tails Foundation's website for quite awhile. Why I haven't found my forever home by now is puzzling because I'm such a good, sweet boy with a gentle temperament. I have the biggest, warmest, most loving heart and am also quite intuitive. You'll discover I can always sense your moods, and when you're having a rough day, I'll sympathize and do my best to cheer you up. In the house, I'm the perfect gentleman - a total cuddly couch potato who wants to be with my person/people all of the time. I lean in for pets and have created a Yoga move I call "sideways downward dog," where my tush is in the air, and I encourage you to scratch me all over. Outside in the yard, I'm Jack the Explorer, searching, sniffing, and tasting everything, and sometimes I even hunt. Believe it or not, I'm so athletic that I can jump straight up in the air from all four paws and catch a bird! Despite my athleticism, a low-activity household will be a perfect fit for me, as I'm basically a homebody whose favorite activity is snuggling.

A few other things to know about me: I'm potty-trained and run to my crate when told "crate up" (and offered a yummy bribe such as my meal or a treat-filled Kong), where I snooze away the hours while you are at work or running errands. I also know sit, down, look, off and am ever so ready to learn more! Speaking of learning, my adopters would benefit from taking training classes with me to understand how to handle and work with me on my leash skills. On-leash walking in the neighborhood is very stressful for me and I prefer to stay home and enjoy my yard. Ditto for dog intros: I get along great in the yard off-leash with dogs my own size but need to work on on-leash meetings. I also require a yard with a 6-foot privacy fence. Anything lower and I can easily scale it. I love every person I meet, but because of my size and tendency to jump when I get excited, I would do best in an adult home or one with older children (10+ years.) And absolutely no small dogs or cats, please. To me, they're all squirrels who must be chased and captured. Finally, although I'm healthy, as a 7-year-old gentleman any potential adopter must consider the costs associated with my future medical needs. Summing up, I'm a gentle, loving, happy, sweet, and big-hearted guy-a real gem who just needs a little bit of polishing. I've asked Santa for a forever home in time for the holidays. I'm so hoping it will be with you!

Love and kisses,
Jack Dawson

If you'd like to adopt this dog please get started by filling out a complete application (incomplete submissions cannot be sent). Please note that while we take time to learn as much as we can about each dog in our care as possible, our bios are written from current observations. Though we do our best to share as much information as possible about each dog we care for, we are unable to make any guarantees on the future health or temperament of your adopted dog. Most dogs in our care come with unknown pre-rescue history, and information pertaining to breed and age are often educated guesses.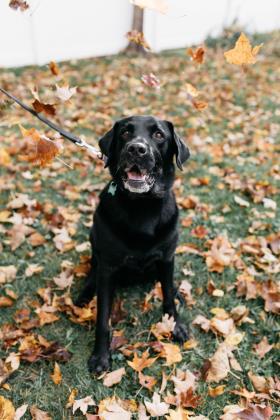 When you adopt a dog, you're not buying a pet. Your donation isn't a fee for your adoptee - it's a gift that helps us pursue our mission, save lives, and ensure we can provide care to all the dogs in our program.
Senior dog. 8 years and up / $125

Adult or Young Dog. 6 months to 7 years / $300

Puppies. Under 6 months / $375
Lives in 50 mile radius of Itasca within the Illinois border

Be at least 21 years of age

Have the knowledge and agreement of all adults living in the household

Have approval from owner of the residence (written in lease)

Have a valid ID with current address

Be approved as a suitable adoptive home by Fetching Tails Foundation

Be prepared to make a lifetime commitment