*SPONSORED ADOPTION FEE*

FAST FACTS:
*Lively and Affectionate Personality
*Has Intervertebral Disk Disease
*Should be Only Pet (no other dogs or cats)
*No Apartments/Condos
*Home With Limited Stairs and Fenced Yard Preferred
*Working on Potty Training

BIO:
Are you in the mood for a sweet treat? Look no further! My name is Oreo Cookie and I am a super special shih tzu mix, estimated to be about 8 years old and 13 pounds, who is available for adoption through Fetching Tails Foundation. I am a silly white and gray ball of fluff and fun, who needs an attentive adopter who will help me manage my intervertebral disk disease (IVDD), which is like a slipped, bulging, and/or ruptured disk. My condition needs some extra care, but does not affect my lively, outgoing personality one bit! I have been receiving acupuncture, massages and exercising to gain strength and have been feeling great! I will need an adopter who will keep up with my therapy, which my foster will be happy to explain in further detail, and who will be attentive if my condition worsens and I need additional treatments.

I am a happy-go-lucky dude who enjoys going for walks, playing with tons of toys, and generally making my people laugh with my positive attitude. I would like to be your only pet so I can have all your attention, and would also do best in a home without young human kiddos. When I am tired out from our fun, I love to snuggle in close and am happy to nap with you. In an ideal world, my person would be home more often than not so we can spend as much time together as possible. I am working hard on potty training and do best with frequent breaks to do my business. I am a well-behaved gentleman, but I must admit to being a bit of a talker to get what I want, especially food. What can I say, I love snacks and will sing for my supper! I would do best in a single-family home instead of an apartment or townhouse and it would be lovely to also have a fenced yard to enjoy. Down the line, I might need a wheelchair to help me with my back legs, so limited stairs in my forever home would also be ideal.

My goal in life is to make my people smile and have fun: I will keep you entertained every day with games of hide and seek or chase around the house. If you need a reason to smile, I hope you fill out an adoption application soon so we can start our exciting life together!

Kisses and cuddles,
Oreo Cookie

If you'd like to adopt this dog please get started by filling out a complete application (incomplete submissions cannot be sent). Please note that while we take time to learn as much as we can about each dog in our care as possible, our bios are written from current observations. Though we do our best to share as much information as possible about each dog we care for, we are unable to make any guarantees on the future health or temperament of your adopted dog. Most dogs in our care come with unknown pre-rescue history, and information pertaining to breed and age are often educated guesses.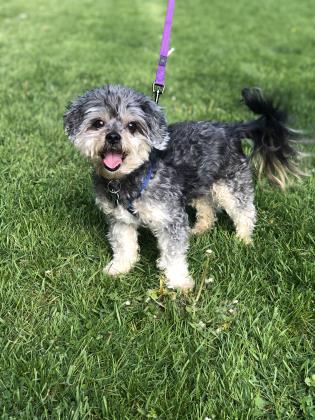 When you adopt a dog, you're not buying a pet. Your donation isn't a fee for your adoptee - it's a gift that helps us pursue our mission, save lives, and ensure we can provide care to all the dogs in our program.
Senior dog. 8 years and up / $125

Adult or Young Dog. 6 months to 7 years / $300

Puppies. Under 6 months / $375
Lives in 50 mile radius of Itasca within the Illinois border

Be at least 21 years of age

Have the knowledge and agreement of all adults living in the household

Have approval from owner of the residence (written in lease)

Have a valid ID with current address

Be approved as a suitable adoptive home by Fetching Tails Foundation

Be prepared to make a lifetime commitment