FAST FACTS:
*1 Year Old - 57 Pounds
*Moderate Energy
*Dog Friendly
*Cat Friendly
*Older Children
*Potty/Crate Trained

BIO:
Hello and happy New Year! It certainly is a happy one for me since being rescued and made available for adoption through Fetching Tails Foundation! Fittingly named "Patchy" because of my speckled coat and beautiful, multi-colored eyes, I'm a 1-year-old cattle dog mix, weighing in at 57 pounds. To date, I have been polite to other dogs or children when I pass them by on walks. I am friendly towards cats, too - I'm a big, strong girl but I still get along well with those little fur balls! Although I am a gentle lady, I frequently forget my size so it'd probably be best that any children in my forever home be a bit older (10+ years). I will lean right into you for as much love and pets as possible and think that I am a lap dog, so I would hate to accidentally knock over one of my smaller human siblings.

I'm already potty trained and continue to improve every day with crate training. I may whine in protest for a minute or two, but this is becoming less and less each day as I continue to adjust. Comforting petting goes a long way whenever I get startled by loud noises, and yummy treats will help make training a breeze. Oh and some delicious gooey peanut butter is the way to my heart when bath time rolls around. Mmmm peanut butter! Lengthy walks help to fulfill my inquisitive nature before settling down for a long, cozy nap. I'm a sweet and gentle gal who's looking to start the New Year off in her forever home. Let's make new memories together!

Your loyal friend,
Patchy

If you'd like to adopt this dog, please get started by filling out a complete application (incomplete submissions cannot be sent.) Please note that while we take time to learn as much as we can about each dog in our care as possible, our bios are written from current observations. Though we do our best to share as much information as possible about each dog we care for, we are unable to make any guarantees on the future health or temperament of your adopted dog. Most dogs in our care come with unknown pre-rescue history, and information pertaining to breed and age are often educated guesses.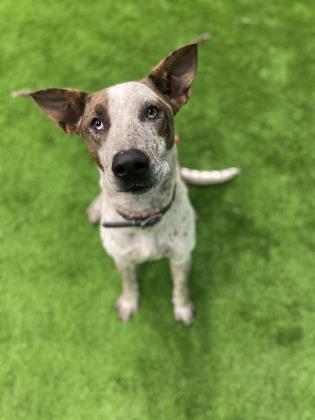 When you adopt a dog, you're not buying a pet. Your donation isn't a fee for your adoptee - it's a gift that helps us pursue our mission, save lives, and ensure we can provide care to all the dogs in our program.
Senior dog. 8 years and up / $125

Adult or Young Dog. 6 months to 7 years / $300

Puppies. Under 6 months / $375
Lives in 50 mile radius of Itasca within the Illinois border

Be at least 21 years of age

Have the knowledge and agreement of all adults living in the household

Have approval from owner of the residence (written in lease)

Have a valid ID with current address

Be approved as a suitable adoptive home by Fetching Tails Foundation

Be prepared to make a lifetime commitment