*SPONSORED ADOPTION FEE*

FAST FACTS:
*10 Years Old - 58 Pounds
*Mostly Low Energy
*No Young Children (Calm Teenagers OK)
*Calm Dogs and/or Cats OK
*Potty and House Trained
*Loves the Outdoors
*Prefers a Quiet/Mellow Home

BIO:

Hi there, future family! My name is Shallow, and I am a lovely lady with deep affection for the people I let into my world. I would thrive in a calm home without many visitors where I can snooze in my favorite doggie bed and sunbathe by the windows. I enjoy the finer things in life like lounging by your side and going for leisurely walks around the neighborhood (I have some minor arthritis and take joint supplements that help, but I am not as fast as I used to be!), and also quite enjoy outdoor activities such as trips to parks or forest preserves to sit and people, dog, and duck watch; being your first mate on a boat ride; or dipping my paws in the water with my foster family at their lake house. I would prefer an adult-only home, or older teenagers if you have kids, because everyone needs to understand that while I love to be by your side I am not the kind of dog who likes hugs, kisses, or people clinging on me. I get along with dogs and cats who are calm and will not get in my face too much. I am even well-mannered during car rides to our next adventure or the local coffee shop for a puppachino!

I have excellent manners and make a great roommate: I'm potty trained and can hold it up to 7-8 hours. My ideal forever home will have someone home frequently because I love to be near my humans, but if you need to leave the house for a while I am content to nap and wait for your return. I know a few commands including sit, come, and lay down, and I don't beg to get on furniture. I even have a special talent: I can make my ears dance in exchange for a tasty treat! I dream about an understanding family who will lounge around with me on lazy weekends and enjoy the great outdoors on occasional adventures. If that sounds like you, please fill out an adoption application soon because I have been waiting a long time for you!

Love,
Shallow

If you'd like to adopt this dog, please get started by filling out a complete application (incomplete submissions cannot be sent.) Please note that while we take time to learn as much as we can about each dog in our care as possible, our bios are written from current observations. Though we do our best to share as much information as possible about each dog we care for, we are unable to make any guarantees on the future health or temperament of your adopted dog. Most dogs in our care come with unknown pre-rescue history, and information pertaining to breed and age are often educated guesses.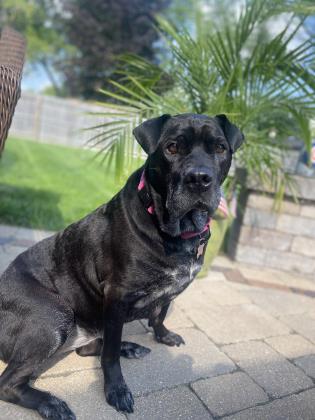 When you adopt a dog, you're not buying a pet. Your donation isn't a fee for your adoptee - it's a gift that helps us pursue our mission, save lives, and ensure we can provide care to all the dogs in our program.
Senior dog. 8 years and up / $125

Adult or Young Dog. 6 months to 7 years / $375

Puppies. Under 6 months / $450
Lives in 50 mile radius of Itasca within the Illinois border

Be at least 21 years of age

Have the knowledge and agreement of all adults living in the household

Have approval from owner of the residence (written in lease)

Have a valid ID with current address

Be approved as a suitable adoptive home by Fetching Tails Foundation

Be prepared to make a lifetime commitment